Caldwell & Kerr Advertising Among The Top 15 Automotive Marketing Agencies For 2016
Award-winning advertising agency Caldwell & Kerr recently added another accolade to its growing list of industry honors after being named the Top Automotive Marketing Agency for 2016.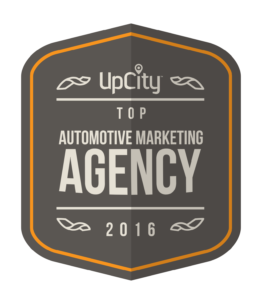 "Awards like this one continue to solidify our reputation as leaders in the automotive advertising and marketing industry," said partner Tom Kerr.  "We are excited about our future as an agency and our plans for even more growth in 2017.  This is truly the beginning of a new era for us."

Partner Paul Caldwell shared a similar sentiment, "this has been a wonderful year for our entire company.  Caldwell & Kerr Advertising now encompasses 5 different advertising agencies serving different niches within the automotive industry.  We are proud to continue to grow with the support of our loyal employees, business partners, friends & family."
About Caldwell & Kerr Advertising
A Full Service TraDigital Agency РCaldwell & Kerr is the parent company of five different automotive-specific agencies that work together to serve all of your needs – from in-house production to online marketing services. We're poised and ready to handle your tier-2 or tier-3 business– and deliver big results!
Home of the Original TraDigital Agency & the #1 automotive advertising agency: Moore & Scarry Advertising,  the award-winning social media platform Sparq, DyGen, Email Resultz and Wholesale Mail.
About UpCity Top 15 Automotive Marketing List 2016
In 2016, more than 52% of searches for automotive-related keywords originated from mobile devices and smartphones. To capture new vehicle buyers and generate sales in our mobile-connected world, having a strong online marketing presence is one of the most important investments for your automotive business. We've looked at automotive marketing agencies across North America to find marketing providers with a focus on automotive that provide services you can count on. Check out our list of automotive marketing agencies below!
###