Digital Ads, Data Privacy, and Your Marketing Strategy: What Dealers Need to Know
As you've likely heard, ad tech giants are facing unprecedented scrutiny for how they handle user data while ensuring online privacy. Companies like Google, Facebook, and Apple® routinely share iOS user data with other ad-serving platforms. With new legislation and platform updates announced over the past 18 months, big changes are coming that will affect your dealership's marketing strategy for sales, service, and retention.
In this article, we'll give you the rundown on what we know about these changes. We'll also advise you on some steps to take at your dealership to prepare for what's coming—and some things to keep in mind once you do. But first, some history behind how we got here.
The History of Apple's IDFA (Identifier for Advertisers)
This identifier for iOS devices is the "key to the ad kingdom," allowing advertisers to precisely target and track user activity. Apps installed on these devices send this ID to Apple, and in return, Apple sends back a comprehensive profile of device activity. This enables advertisers to measure user interactions with their ad campaigns and track events and in-app activity. As such, it's the foundation for retargeting in-market vehicle shoppers through ad networks after they visit your website.
When iOS 10 was released in 2016, Apple introduced a new "Limit Ad Tracking" option for users who preferred not to be tracked by advertisers. If checked, this option set the device ID to "all-zeros," eliminating the unique identifier for the device. It is estimated that only about 20% of users turned on this setting.
In July 2020, Apple decided to take this measure further—by a giant leap. They decided that every iOS user deserves to know when someone is tracking them. So, they announced their plan to apply the option to each individual app known to use the tracking data. And thus Ad Tracking Transparency (ATT) was born.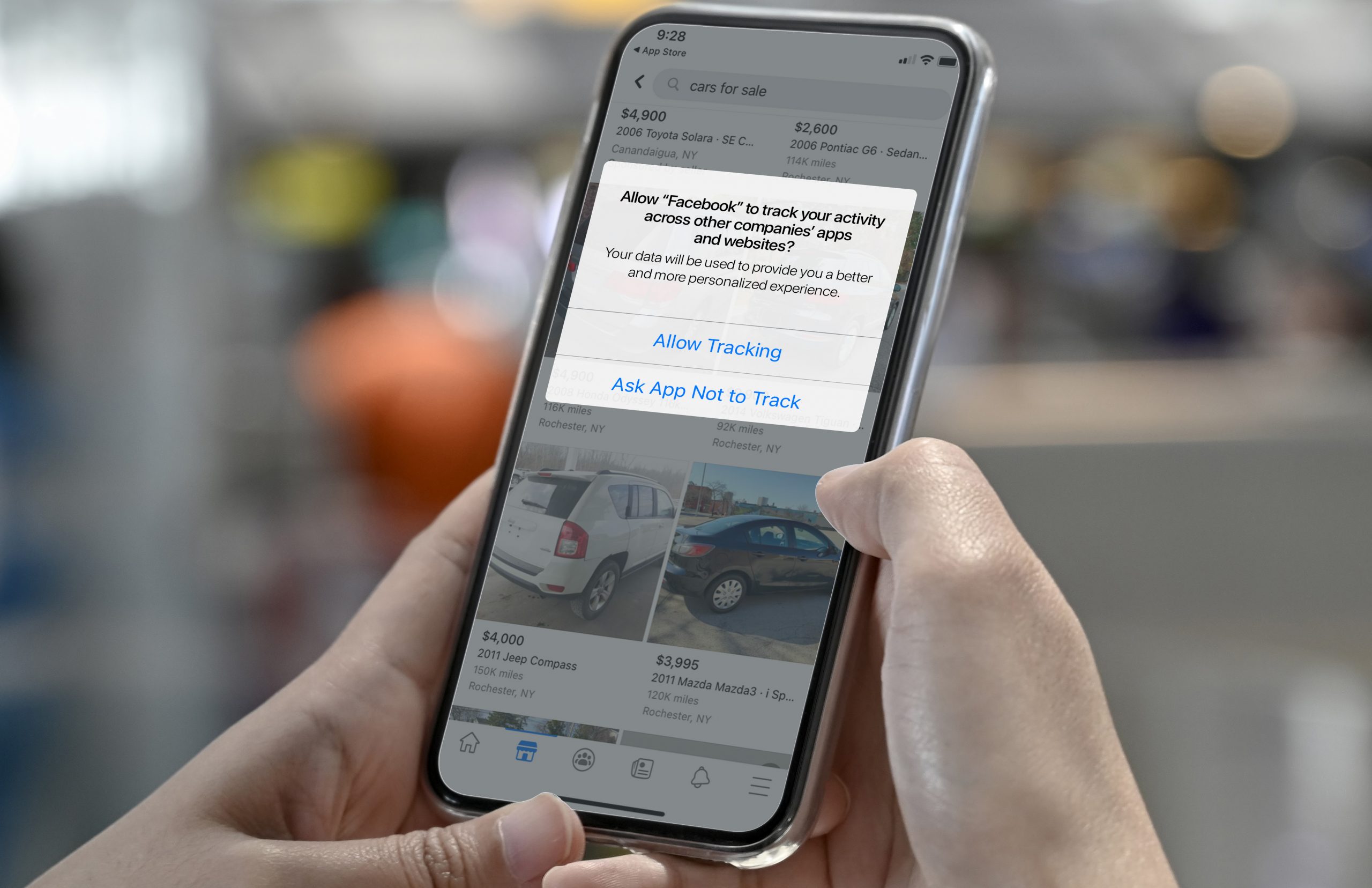 By the end of Q1 2021, Apple began to roll out their new ATT, or Ad Tracking Transparency prompt in iOS 14. With this update, users will see the ATT prompt when opening their favorite apps, which states the app would like to track them and their website activity. The options on this pop-up are, "Ask App not to Track" or "Allow." If the user does nothing, the default is to track. It is estimated that approximately 75% of users will opt out of tracking—and thus, out of Apple's IDFA. Yes, 75%.
To adapt to these new data sharing policies, Facebook and other apps will need to implement a new framework, prescribed by Apple, that restricts, aggregates, and delays event reporting. For dealers, these events might include Vehicle Display Page (VDP) views, scheduled test-drive appointments, contact form submissions, and scheduled service appointments. In addition, Apple will now restrict the reporting to a total of eight (8) events on Facebook. If you're currently tracking more events than this (which you likely are), be mindful of the events that best align with the business objectives of your store.
Another direct impact of this new data sharing framework is on optimization. Facebook has traditionally used IDFA data like website activity and app usage to build audiences for targeting and delivery optimization. If a user has opted out of the IDFA on their iOS device, they will no longer show up in targeting audiences or reporti ng to show whether the ad worked. Facebook will continue to be a great source of traffic and leads for automotive dealers, but the next few months will be a mad rush to establish solutions for optimization and reporting.
Death of the Third-Party Cookie
Paired with the upcoming changes from iOS 14, browsers like Chrome, Safari, and Firefox have steadily tightened their restrictions on the use of cookies since 2014. Browsers use them to track website visitors, improve the user experience, and target ads to the right audiences.
To fully understand the influence of these changes, it's important to be familiar with the two types of cookies. The key differences are in how they're created, how they're subsequently used, and which browsers support them:
First-party cookies are created and stored by the website you're visiting directly. They allow websites to help provide an improved user experience by remembering language settings, user analytics data, usernames, and shopping carts.
Third-party cookies are created and placed by domains other than the website you're visiting. Typically, the placement of these cookies come from ad retargeting, live chat pop-ups, and cross-site tracking.

Early on, Safari and Firefox focused only on third-party restrictions and quickly phased them out. In 2020, Google announced a phaseout of third-party cookies for Chrome sometime in 2022 to allow for advertisers using their platforms to prepare for these changes. When the phaseout is complete, measurement and targeting will become significantly more challenging as Google stated it will not develop alternative identifiers to track individuals as they browse the web. This includes leveraging hashed email addresses to identify these users.
So how is Google planning to allow advertisers to target specific audiences and measure the results effectively? Google Chrome's first-party cookies and the Privacy Sandbox Tools will allow advertisers running Google Ads to target audiences, with limitations of course. With Google's move away from tracking users at the individual level, their focus is now on groups of people with common interests.
One such initiative, FLoC (Federated Learning of Cohorts), presents a new way for advertisers to reach these groups by hiding individuals "in the crowd" and keeping that person's web history private through on-device processing. Google expects to begin testing these cohorts in Q2 of 2021, along with their first iteration of user controls in Chrome.
What Dealers Can Do to Prepare for These Changes
First, be sure to prioritize your first party, or "owned" data from your DMS or CRM software for your marketing efforts. This is by far the most valuable data available to you and your marketing team. If your advertising relies heavily on third-party data, start looking for alternatives now. In the meantime, here are a few things to consider adding to your to-do list:
For Facebook advertising
1. Domain verification: By verifying your domain in Facebook Business Manager, you can ensure who has access to edit the way content is displayed. More information about Facebook domain verification can be found here.


2. 8-event configuration: Identify and configure the 8 events you will use for tracking and optimization. Again, these should be directly aligned with the business goals of your dealership.


3. Use Non-IDFA reliant match methods: Adopt Facebook Login or Advanced Matching (with permissions) and hashed contact information, such as email addresses.


4. If using the Facebook SDK, update to version 8.1 or above: This update will allow for more personalized ads served to iOS 14.5 users—and will send the Advertiser Tracking Event flag with app events to share user consent status.


5. Be ready for changes to the Attribution Window: The defaults for conversion and attribution windows are changing at both the Ad Set and Account level in Facebook Business Manager. You can learn about the full explanation of this update here.
For Google and browser-based campaigns
1. Get familiar with Google's Privacy Sandbox Tools and the FLoC: These options, along with many other alternative and proposed solutions will help you better transition away from reliance on the third-party cookie.


2. Upgrade to the latest version of Google Analytics for Firebase: This will give you access to features like SKAdNetwork to better measure your campaign results in iOS 14.
Ad Tech in 2021: What's Likely to Come
With the sheer volume of data privacy changes, it's natural to wonder: what's driving these changes and what are the likely outcomes? For starters, the move to a more privacy-focused online experience is rooted in one concept: trust. According to a study by Pew Research Center, 52% of U.S adults said they avoided a product or service due to concerns about how much personal information would be collected about them. And the experience of an in-market vehicle shopper is no exception. This erosion of trust is the primary driver for change in online privacy policy.
Going forward, our prediction is the continued rapid increase of walled gardens—closed platforms like Google and Facebook, which require a login using their own methodology to safeguard privacy for first-party data. Of the largest, Apple has yet to launch an ad platform. And with the latest IDFA restrictions, all signs point to Apple getting into the ad game very soon.
As new platforms emerge and guidelines change, we know it can be difficult to keep up. To further prepare your store for what's ahead, we recommend relying on a marketing provider who can help you adapt to new trends and restrictions with ease.
How Affinitiv is Complying with ATT and the Move Away from Third-Party Cookies
The entire team at Affinitiv is working hard to understand these new guidelines and put user privacy first. We remain committed to providing dealers, dealer groups, and our OEM partners the highest level of transparency about this rapidly changing ecosystem. Partnering with our ad technology teams at Facebook, Google, Microsoft, and Amazon, we will continue to adjust to policy changes to preserve the integrity and success of the campaigns we manage for our clients.
Ready to take action? To discover how Affinitiv can help your store make the necessary preparations for changes in data privacy, connect with us today.